Deleting two resonators creates a deep and assertive exhaust note
Horsepower gains of 8-12 HP
Constructed from 304 stainless steel 2.5 inch (65mm) diameter tubing
Easy to install - do it at home with minimal tools
Tig welded, high quality, and long lasting
Fully lined flex section - will never collapse and supercharger approved
Includes all hardware and clamps needed for a hassle-free install
SOUND LIKE A PERFORMANCE CAR:
It's no secret the 3.0T engine has the makings of a true performance powerhouse, unfortunately from the factory the supercharged engine is muffled and resonated to death. In its stock state, the car is so quiet that it's possible to forget your driving an S powered chassis altogether. That just won't do, by removing both factory resonators and replacing them with a high-quality tuned 304 65mm stainless pipes; the engine sound comes to life! If you're a true enthusiast that loves a deep and throaty exhaust note, you will not be disappointed with your new IE 3.0T downpipe system.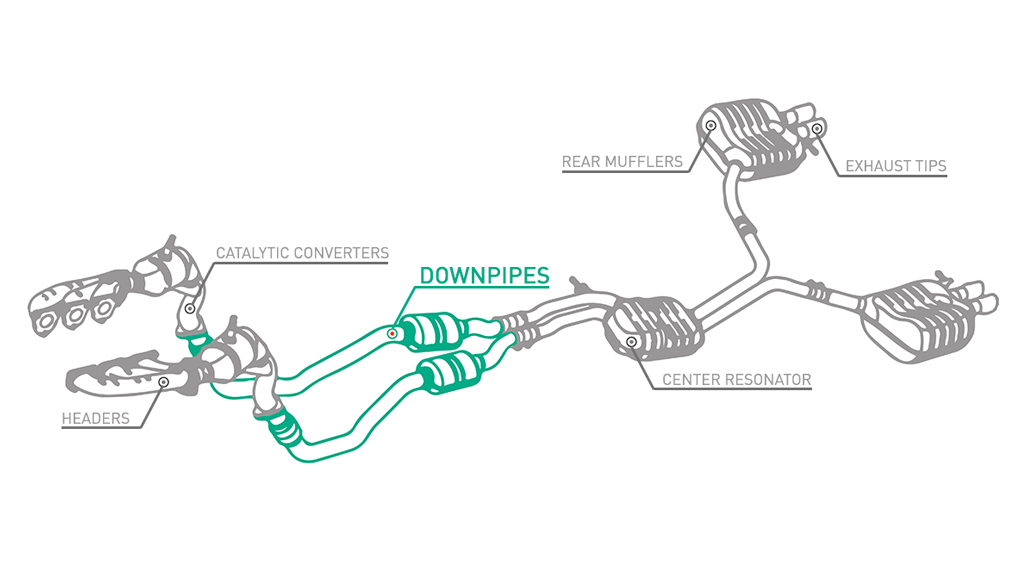 Downpipes are a popular and easy mod to install. As a pair, they replace roughly 12 feet of factory tubing and a pair of resonators. This frees up the exhaust system, making the engine sound as it should. On the 3.0T, the downpipes are located after the catalysts and before the center muffler. Due to the copious amount of exhaust on these chassis, refer to the diagram to simplify the system.
Increasing the tubing size and deleting two sound muffling resonators results in noteworthy gains of 8-12 horsepower and torque (ft-lb). Larger gains may be realized on more aggressive setups such as stage 2 or stage 3 vehicles.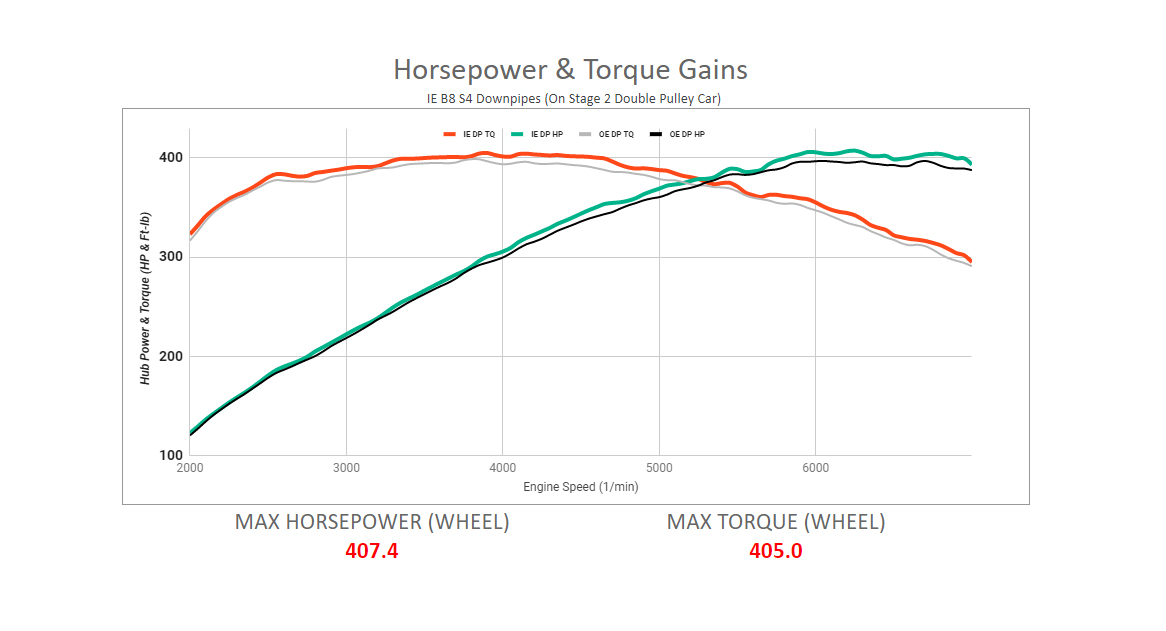 Power gains measured stock downpipes vs. IE downpipes on a Stage 2 Dual Pulley tuned B8.5 S4. No changes except downpipes were made between comparison runs.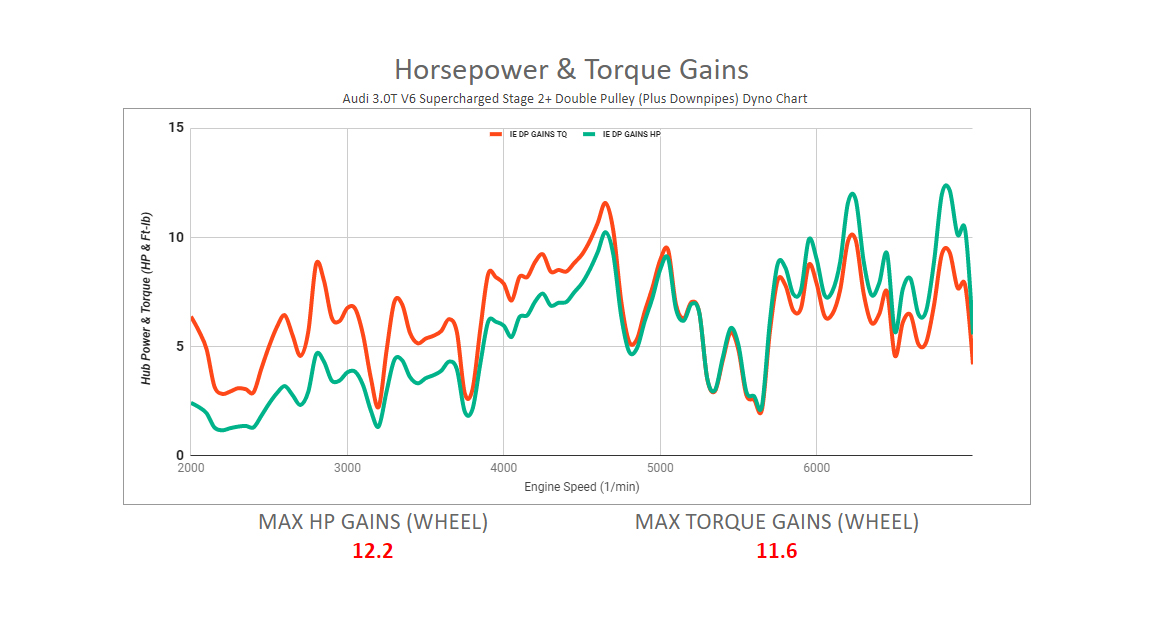 304 Stainless steel tubing and tig welding make for a long-lasting and worry-free product. High quality lined flex sections will never come apart internally and clog your exhaust like inferior flex sections. Especially in forced induction (supercharged or turbo), economy flex sections are bound to fail and cause performance issues.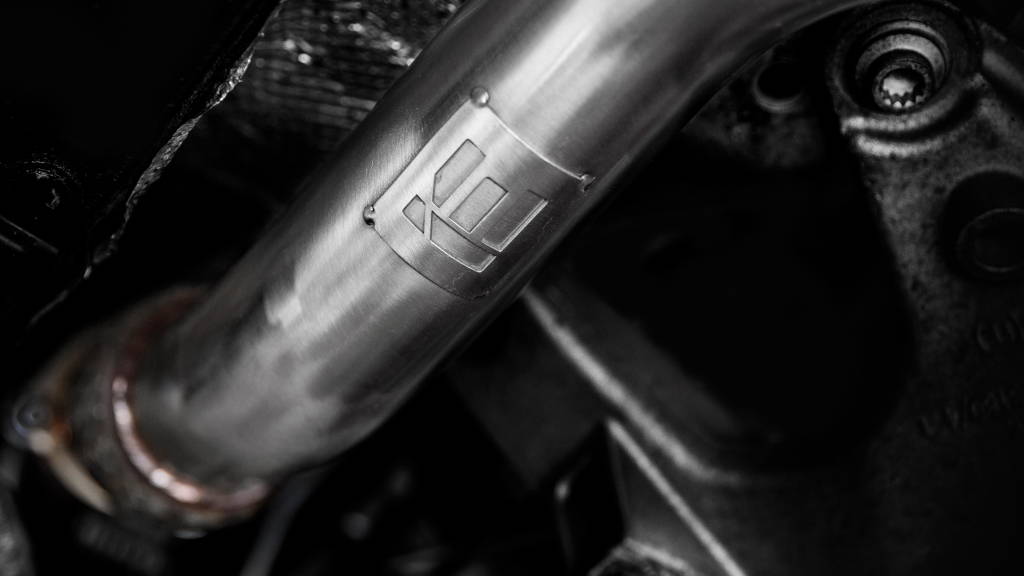 One of the greatest features of IE downpipes is that they are a breeze to install. They can be done with minimal tools in your garage (or driveway) on jack stands. No welder or sawzall required! It's sad that we even have to mention this, but it's a fact that many cheaper products often require modification to be installed. For a hassle-free install, go with IE who stands behind their products.
NOTE: Does not fit B8 S4/S5 chassis with 4.2L V8 engines.
CONSUMER NOTICE: BY PURCHASING A MOTORSPORT/RACING PRODUCT ("PRODUCT"), YOU REPRESENT THAT YOU UNDERSTAND AND AGREE THAT: THE PRODUCT IS NOT DESIGNED TO MEET ANY APPLICABLE EMISSIONS STANDARDS, WHETHER IN THE USA OR OTHERWISE, THE PRODUCT IS NOT C.A.R.B. COMPLIANT, AND THAT THE PRODUCT IS NOT FOR SALE OR USE IN CALIFORNIA, USA NOR ANY OTHER JURISDICTION WHERE THE SALE OR USE IS PROHIBITED BY LAW. INTEGRATED ENGINEERING, LLC MAKES NO REPRESENTATIONS, WARRANTIES, OR CLAIMS THAT THIS PRODUCT COMPLIES WITH ANY APPLICABLE EMISSIONS LAWS AND EXPRESSLY DISCLAIMS ANY AND ALL SUCH REPRESENTATIONS, WARRANTIES, AND CLAIMS, WHETHER EXPRESS OR IMPLIED. BY PURCHASING THIS PRODUCT, YOU REPRESENT, WARRANT, AND AGREE THAT IT IS YOUR RESPONSIBILITY TO INFORM YOURSELF OF ANY LAWS OR REGULATIONS THAT MAY APPLY TO YOUR PURCHASE AND/OR USE OF THE PRODUCT.